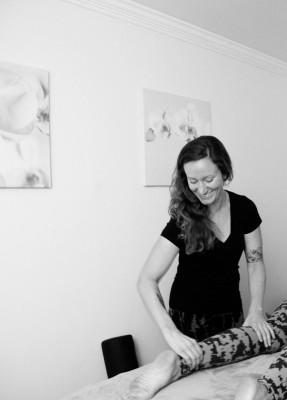 "Massage is a scientific and systematic manipulation of the soft tissues of the body for the purpose of obtaining or maintaining health."

-Salvo, Susan G. (2007). Massage Therapy: Principles and Practice, 3rd Edition. St. Louis: Saunders
*Decreases blood pressure
*Replenishes nutritive materials (nutrients and oxygen to cells and tissue)
*Improves performance (balance and posture)
*Reduces muscle soreness and fatigue
I utilize stretching, compression, joint mobilization, combined with deep tissue techniques in each massage  session.  I believe that when receiving deep tissue massage you should be able to relax, breathe and  become  even more aware of any areas of tension or discomfort. It's important to recognize our pain or discomfort so  that we can decipher what is causing it.  Foundation Training is an incredibly useful accessory to mental and  physical wellbeing. I highly recommend combining massage with Foundation Training.

"I have had the opportunity to work in tandem with Ms. Kolbe in a clinical setting in Austin, TX. She incorporates many different techniques when approaching soft tissue or musculoskeletal injuries. I hurt my back while adjusting a patient in clinic and Ms. Kolbe was able to reduce the acute pain by 80% within 20 minutes of care. She is reliable, confident and well versed at her trade. I would recommend her care to anyone dealing with musculoskeletal injuries."

W. Maxwell, DC
​​

​​

"I have been a client of Jacquelyn's for a number of years and cannot recommend her service enough! She is more than just a massage therapist, she is a true healer. At each session, Jacquelyn becomes so in tune with my body and how it's feeling and where the soreness or tightness or pain is. Each session is unique in terms of her approach. Jacquelyn cares enough to take the time to understand what your body needs that day and what type of therapy would be best to either get you back on your feet and attack the day, or just get in a relaxing mood for a quiet evening followed by a good night's sleep. Jacquelyn has been a core part of my routine to maintain a healthy mind and body and I would highly recommend you add her to your ongoing regiment as soon as possible!"​

Nadeem​​

​​
"Ms. Kolbe is professional. She takes great care of patients, has excellent communication skills, and is very thorough. On a personal note I saw her every three weeks and she drastically improved the pain in my neck and low back. She also improved my posture and sleep. Even though the body work didn't put me to sleep, it can be uncomfortable, it fixed my underlying issues. Clinically she is very very good and I would recommend her care to anyone."
J. Fleeger, PA-C​​​

 I am currently available Tuesdays, Wednesdays,Thursdays and Saturdays. Please contact me via cell or email to set up an  appointment.
 E: jacquelyn.kolbe@augustmoonbodyworks.com
Massage Therapy Clients (Non-NC  Members):
 I rent a room in OM Studios Monterey at 631 Cass St, Ste B, Monterey 93940. Please either use  the

"Book Now"

button to  schedule an appointment or  contact me via cell or email. 
 C: (612)210-7844
 E: jacquelyn.kolbe@augustmoonbodyworks.com

Pricing:​

60 Minute $85

90 Minute $127​

120 Minute $170
​